Dancing Love is celebrating the New Year with style and we're inviting you to join us with some of these cool rewards when you top up in the game! Get your hands on our really cute Llama and also a sparkly white outfit inspired by our favorite Snow Queen, journeying Into the Unknown!
All you need to do is accumulate the Diamond Top Up and you'll be rewarded with its respective rewards.
Event Period : 2020.01.15 – 2020.01.19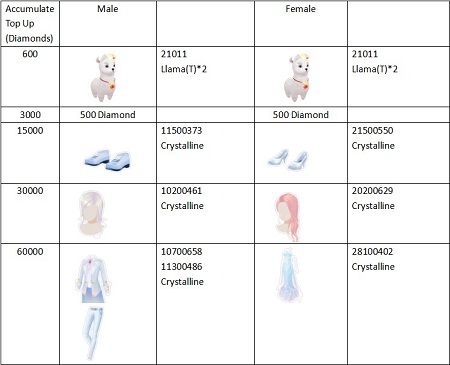 T&C
1.The Accumulated Top Up Amount is in Diamonds
2.Available for our Payment Partner Top Up Methods
3.Player will receive items based on their respective genders ONLY.
4.Rewards will be issued within 14 day(s) after the event ends.
5.Dancing Love reserve the right to modify, cancel or postpone the event and reward without prior notice.