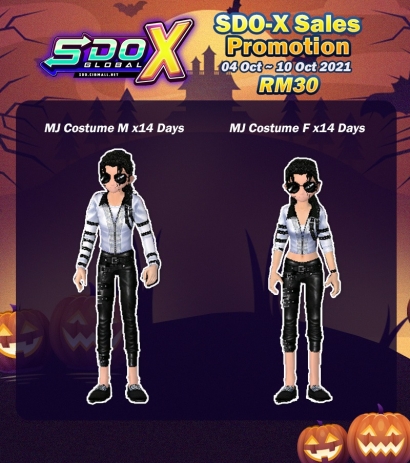 Did you guys know Halloween is coming very soon ? SDO-X Team has prepared a special promotion event ~ You just have to reload at least RM30 into the game during the events then you will receive the MJ Costume with EFFECT MJ Shoes!!
(Type [GO] or [Walk] in waiting room to dance)
Event Details -
Event Date : 04/10/2021 ~ 10/10/2021
T&C:
1. Each id only can get one package
2. After the event ends will send out the package within 7 WORKING days
3. SDO-X Team Management has the right to cancel or change the rewards without prior notice,
will not take responsibility nor give out compensation.
4. Virtual prizes are sent via in-game mail by the system, please ensure there is sufficient space in the mailbox.
5. Auto open giftbox will not compensate or change.
6. SDO-X Team Management retain the ultimate right to change and to follow the actual situation of deletions, amendments or changes to activities approach